Stainless Steel Tubular Product
Featuring:
A Large Stainless Steel Inventory - (300 or 400 series)

Exotics - Such as 29-4C, Incolloy, Inconnel, Titanium, Duplex and Super Duplex.

TIG welded seam.

Flash controlled to .001".

Various Diameters and Gages available for immediate delivery - or Made to Order

Diameter range of - .188" to 2.500"

Wall Thickness range of .010" to .113"
Manufacturing Capabilities Include:
Diameter Tolerance run to Customer Specifications

Random Mill Lengths

Tube End Deburr

Small Diameter Coiling

Black or Invisible Ink-jet Printing (available upon request)

Tube Stock Cut-to-Length

Close Tolerance Cold Saw / Lathe Cutting

Wire Brush Deburr

Tumble Deburr

Polishing

OD Conditioning

High Pressure Washing

G&L produces a wide variety of tubing to various ASTM standards to suit your particular product application. Tubing is produced to industry leading dimensional controls which surpass industry expectations and provide a consistently high quality fit to your end use application. A review of our various product offerings will provide the specific information needed for you to select the right G&L tube for the success you need in your product application.

Welded Stainless Steel Tubular Product
Alloys:
Stainless Steels

201
304/304L
316/316L
321
409
436
439
Duplex Alloys
Nickel Alloys
Incoloy
Monel
Titanium
Specifications:
ASTM
Customer Specifications
Coiling:
G&L can provide loose wound coiled tubing to meet your particular needs. Please contact us for a quote.
Round Tubing:
Outside diameters from 0.1875″ – 2.25″
Wall thickness from .012″ – .065″
Shaped Tubing:
G&L is able to produce a variety of shaped tubing to fit your product needs including squares, rectangles and ovals.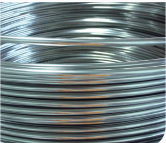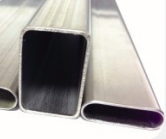 Seamless Stainless Steel Tubular Product
Unlike carbon tubes or stainless welded tubes seamless tubes are applied in more harsh environments and are supplied to a variety of industries with corrosive media, high and ultrahigh temperatures & pressures, other aggressive conditions.




Automotive Tubing:
Seamless stainless steel tubing are widely used for automotive industry. The most common application is as a part of fuel supply systems in GDI (Gasoline Direct Injection) engines.
Type 304L and 316L сold finished tubes
• Small OD for fuel feedlines
• OD 6-16 mm
• Cut pieces 115 mm to 381 mm in length
Type 304L and 316L cold finished tubes
• Medium OD for fuel rail
• OD 20-40 mm
• Cut pieces 151 mm to 381 mm in length
In addition to the austenitic material lean duplex, duplex and super duplex grades are also available.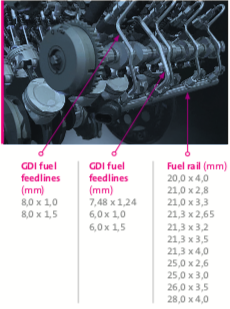 Standard requirements
• Bright annealed to OD 60 mm • High OD and ID surface finish • Strict OD and WT tolerances
• 100% EC testing
• Hardness of HRB 80 for 304L/316L and HRB 90 for other austenitic grades • Meeting global standards e.g. EN 10216-5, ASTM A213/A269 etc.
additional requirements for automotive
Outside surface ...........CFA Ra <= 0,6 μm

Inside surface ...............up to Ra <= 0,5 μm

Tolerances ........................Outside +/-0,05 mm - Inside +/-0,08 mm

Purity ...................................acc. ASTM E 45 procedure A

Surface tension ...........min. 36 mN/m

Ultrasonic testing .....U2A

Quality assurance ......VDA 4902 Version 3, PPAP, FMEA etc.
Heat-Exchanger Tubing:
Heat-exchanger tubes are designed for heat transfer and mostly applied in the processes like heating, cooling, ventilation, condensation and evaporation.
Heat-exchanger tubes are used in the following types of equipment: shell & tube heat exchangers, cooling towers, air coolers and others. Main industries of heat-exchanger tubes application are chemical and petrochemical, power generation, oil and gas.
Instrumentation Tubing:
Instrumentation tubes are widely used for automotive industry. Instrumentation tubes are used for hydraulic & pneumatic control systems, fuel supply lines, pressure sensor lines for automotive industry; for onshore control panels, topside processing facilities and subsea manifolds in oil and gas industry; high purity tubes for semiconductor industry, fuel rods, control tubes for advanced engineering; cooling circuits, brake cylinders for automotive industry.