Tube and Pipe Mill Equipment and Solutions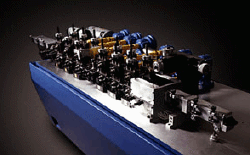 Potter & Associates, Inc sets the industry standard for quality tube mill products, custom engineered to your specific manufacturing needs. Whether you need a tube mill alone, or a complete "turnkey" operation, Potter & Associates, Inc. will engineer a system to produce the tube quality necessary.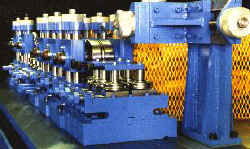 It's a large investment and no two tube mills are exactly the same. So don't just order a model number. Get exactly what you need: the right speed, the right horsepower, the right cutoff. Whether you're running 3 fpm or 1,000 fpm, get a tube mill that will perform for the long run. Make it fit your business. Make it fit your plant.


Features Include:
Components fabricated from alloy steel, or other advanced materials using computer generated design and state-of-the-art manufacturing.
Heavy-duty components for long-lasting accuracy.
TIG, LASER, or HIGH FREQUENCY weld tube mills for ferrous and nonferrous materials.
Single or multiple torch welding systems.
Rafted modules for quick-change operations, automated systems available.
Single point adjustment roll stands.
Servo controlled adjustments programmable or manual.
DC or AC drives systems with integrated line controls.
Programmable logical control systems for sequencing interaction of the tube mill to other ancillary equipment.
Operator training programs available; in-house, or on-site.
Quotations for tube and pipe mills with alternative welding systems available.
Click drop down arrow for more details.